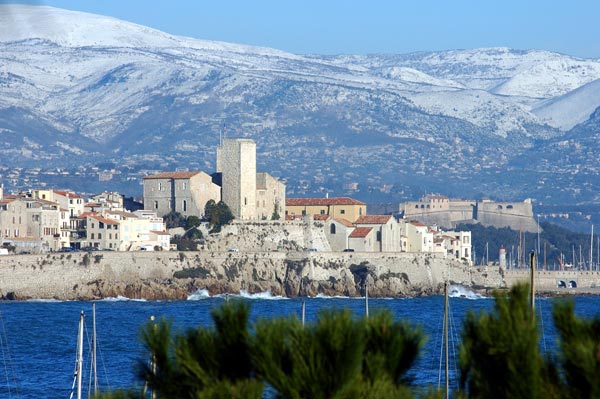 Visiting Antibes Juan-les-Pins can be a relaxing or stimulating experience; there is ancient history as well as all the amenities of a modern town. Explore with the family, friends, the one you love, or on your own. Here are some ideas for interesting walks.
Antibes Juan-les-Pins is a Meditteranean town with 25 kilometres of coastline containing creeks, escarpments, rocky areas, and fine sandy and pebble beaches.
Many watersports are available at the various beaches: waterskiing, parascending, diving and all kinds of fishing.
There are many yachting harbours for keen sailors.- Port Vauban:
The largest yachting harbour in Europe, with more than 2,000 moorings, can accommodate craft of more than 50 metres.
- Port Galice: 542 moorings
- Port de la Salis: 233 moorings
- Port du Crouton: 390 moorings
- Port de l'Olivette: Situated in the sheltered cove of the same name, this is a harbour for sailors and their wooden fishing boats who enjoy the old marine, provencal traditions.
- The Old Antibes and the ramparts.
- The Château Grimaldi and Musée Picasso.
- Place Mariejol, Antibes, 04 92 90 54 20,
- From June 1st to September 30th: open every day from 10 am to 6 pm except Mondays and Holidays,
- From October 1st to May 31st: open everyday from 10 am to 12 am and 2 pm to 6 pm except Monday and Holidays.
- The Marché Provençal - Cours Masséna, Antibes, every day from 6am to 1pm.
This is a Provencal Market where you will find all typical products from Provence, South of France, and even Corsica ! such as condiments, dozens of different sorts of olives, flowers, fishes, delicatessen... in a very typical atmosphere. This market has been held in Antibes for centuries and centuries.
Other places to visit
- The Cathedral - Rue de la Paroisse, behind The Musée Picasso.
- Musée de la Tour (Tour Gilli), Cours Masséna, Antibes, 04 93 34 50 91, open Wednesday, Thursday, and Saturday afternoon.
- Le Fort Carré, Route du Bord de Mer (R.N. 98), Antibes.
- History and Archeology Museum (Bastion Saint-André).
- Peynet Museum, Place Nationale, Antibes. 04 92 90 54 30. Open every day from 10am-12am and 2pm-6pm except Monday and holiday.
Juan les Pins
- Jardins de la Pinède, Square Gould, Avenue Guy de Maupassant, Bd Charles Guillaumont.
Juan les Pins Coast, on the west coast of Le Cap d'Antibes
You will enjoy walking in the animated streets of Juan les Pins, especially in Summer, where most of the people like to go out late in the evening.
- Private beaches are available all along the Boulevard Guillaumont, with many restaurants on the beach itself, for lunch or dinner.
- The coast towards the Cap d'Antibes (Bd Baudoin, Bd du Maréchal Juin, Bd JF Kennedy) is worth seeing.
- Submarine - Underwater view through Glass-Bottom hull. Admire marine flora and fauna of the sea around Le Cap d'Antibes. From the deck, enjoy the beautiful coast and places inaccessible by land.
- Marineland, R.N. 7, Antibes. Open every day, all year.
This is the largest marine zoological park in Europe, with more than 1 million visitors every years, admiring dolphins, sea lions, sea elephants, penguins, killer whales, pelicans, seals, sharks and other exotic fishes.
Next: Cannes ›